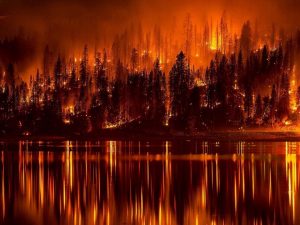 Record highs fueled west coast wildfires in late August that are still mostly unmanaged. A heat wave at the end of August peaked in the Pacific Northwest on the 19th when it was 109 in Medford, OR and 91 in Seattle, WA but in the 100s east of the Cascades. Over 10,000 firefighters have heard the call to extinguish dozens of active fires
The Cayuse Mt. fire near Spokane, WA that started Aug. 21st has concerned nearby residents, who've been sweltering in the record heat. After claiming 14 houses, racking up over $4 million in damages and threatening around 500, the blaze is now 95% contained. Also burned were 25 mixed/commercial buildings, 10 non-residentials and about a thousand other, reportedly minor structures, totaling more than an additional $10 million.
The "Rail" fire near Sumpter, OR that started Jul. 31st is now 75% contained. Fortunately, it is rural enough to have threatened little.
In embattled California the heat wave helped ignite new, presently uncontained fires in Kern, Santa Barbara, Siskiyou and Riverside counties. June's Ventura, July's Monterey and August 13th's San Luis Obispo county wildfires are still raging. The active fires have already killed one, injured three and destroyed 117 buildings and homes, rising damage estimates to over $25 million. Hundreds of homes have otherwise been partially burned. Hundreds of thousands of residents have been forced to evacuate The biggest fire, in big Sur, is endangering the native redwoods that, to many tourists, characterize the area. Despite California's annual legacy of dangerous wildfires 60% of new homes built over the past decade are on real estate that's next to fire-prone public lands.
Low humidities and record highs fueled west coast wildfires but is relief in sight? California will still be baking throughout next week but the conflagrations in the Pacific Northwest will be hindered by the onsetting cooler weather pattern. For county-level updates, refer to the USGS' real-time fire danger forecasts. Additionally, its post-fire debris map highlights dry and charred areas particularly vulnerable to future fires. If you live in an affected area, understand that documentation is key when sending fire insurance claims and that auto insurance can cover damage to cars.
Written by Meteorologist Geoff Linsley