Weather & Airplane Crashes has been an issue of late. First, let us give some perspective and these statistics were compiled from 1,015 fatal accidents, excluding those involving less than 19 passengers, military aircraft, private aircraft and helicopters. Airplane crashes, on average, claim the lives of a thousand passengers every year. Crashes happen for many reasons, ranging from mechanical and pilot errors, to sabotage and, sometimes, the weather. Whether the primary cause or simply an instigating force that leads to pilot error, weather has been a factor in 28% of plane crashes since 1950. See table at the end of this article.
A recent example of a predictable Weather Related aviation tragedy was Air Algerie Flight AH5107, which departed from Ouagadougou Airport in Burkina Faso and violently crash-landed early Thursday, July 24th, 2014, near Gossi in southern Mali. A couple hours after midnight GMT, shortly after the pilot requested a change of course due to malignant weather, contact with the flight was lost.
Archived satellite images revealed strong thunderstorm activity just north of the airport moving southwestward hours before and during takeoff, so the air traffic controllers at Ouagadougou Airport could have been aware of the threat.
The two recovered black boxes recorded the McDonnell Douglas MD-83 achieving flight level twenty-two minutes after departure and then accelerating to 280 KT (322 mph.) After a while, it began to descend and slowed to 160 KT (184 mph.) The pilot then swerved left, seemingly to avoid the most intense storm cell in the region. The plane then slowed and descended until it spiraled downward. Flight data recording stopped at 722 feet above the ground, when the plane had accelerated to 380 KT (437 mph.)
French officials reported that the crash killed all 118 on board. The victims were reportedly nearly unrecognizable due to the intensity of the impact. Local herders witnessed the plane just before it crashed and noted that it was in flames. This may have been due to a lightning strike but the cause of the fire is unknown.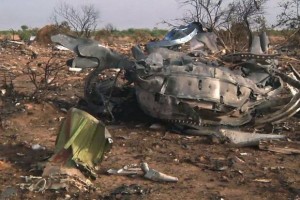 (Some remains of Air Algerie Flight AH5107. Image courtesy of AFP/Getty.)
Causal Probabilities of Fatal Plane Crashes (%)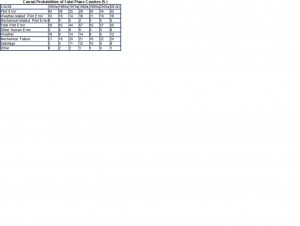 The data in the above table provide by (Data courtesyPlane Crashes
Written by Meteorologist Geoff Linsley